Can you go on a long journey in a car with an infant or a resolute four-year-old and not dream of coming back after driving the first 50 km? Of course, you can! All you have to do is prepare. Discover 10 travel practices with your child and turn your every trip into a fascinating adventure. The world is too beautiful not to show it to our little ones!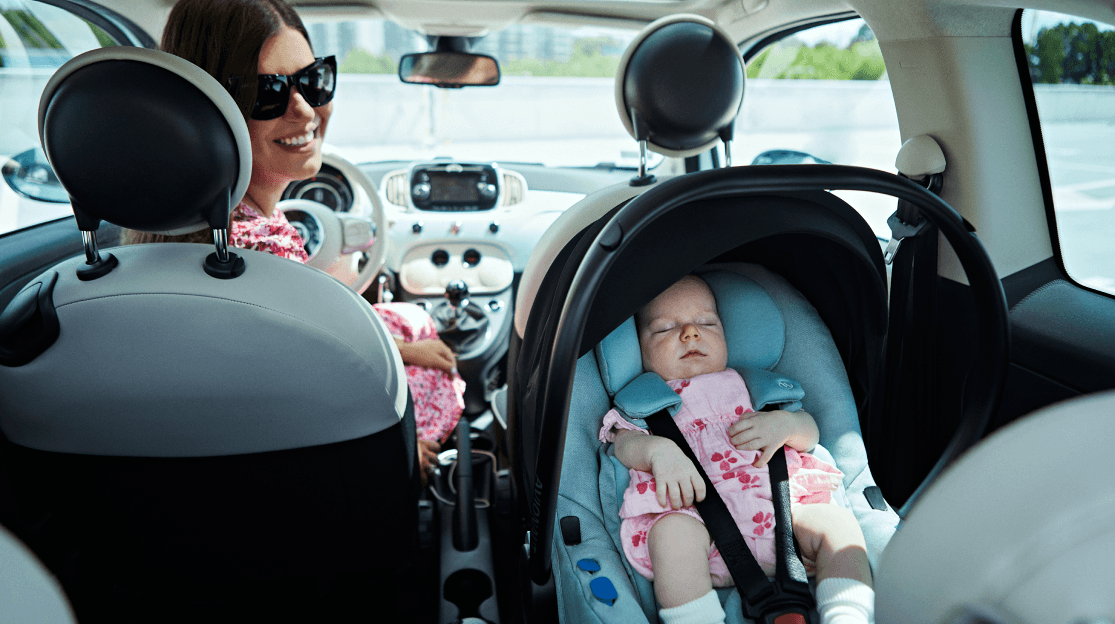 Contents:
1. Travelling by car with a child: packing and preparation

2. Adjust the travel time to the rhythm of the child's functioning

3. Schedule stops

4. Dress in comfortable clothes

Remember to be safe!

8. Make your trip fun

9. Keep your secret weapon at hand!

10. Use gadgets
1. Travelling by car with a child: packing and preparation
Successful travel is based on proper preparation. It is worth starting a few (or even a dozen) days before departure to think carefully about things to pack and, if necessary, buy additional things. It's better to take too much than too little. It is difficult to improvise with a child on board, and I think every parent knows what struggle can be caused by the lack of a favourite hug or a cup.
You'll need a list for packing. Write down all the things that you use every day and without which life would be difficult, as well as typical holiday accessories. To make your task easier, divide them into categories: clothes, hygiene, sleep, toys, electronics, beach (or trail if you are going to the mountains), etc. Remember about medications – take into account all the conditions that may occur. It is much better to take a "small pharmacy" with you than to look for one on the spot in a panic.
It's good practice to write a list like that on your phone. We have it with us at all times, so at any moment we can add it to the list of things that will suddenly come to mind. Once the item has found its luggage space, you can quickly uncheck it on the electronic manifest. It is worth keeping the list and enriching it after the summer with what you missed during your trip. You will be even more prepared for your next trip:).
Also, consider packing your belongings in your suitcase strategically – at the end, pack what you may need immediately upon arrival or on the road. Also, remember to keep your hand baggage close in the car. It should include hygiene products, a change of clothes, a warmer sweatshirt, your baby's favourite toys, drinks and snacks. When packing luggage in the car, pay attention to place a first aid kit, fire extinguisher and warning triangle somewhere on top.
2. Adjust the travel time to the rhythm of the child's functioning
Travelling by car with an infant may be easier than with a child – especially if the time of departure fits so well that the comfort will sleep most of the time. However, it is important to keep the rhythm of the child's day/night. If the little one falls asleep easily while driving, it is better not to travel during the day. When you get there in the evening, you will be tired and your child, well rested, will be ready to play.
If you have an older, already busy child on board and you start your journey during the day, just before heading out it is worth giving them a large dose of activity. Run around the garden, play ball, dance or go to the playground – when the little one gets to let off some steam, the initial stage of the journey will pass more calmly.
It's also worth explaining to a few-year-old where you're going and what you're going to do when you get there. Present your trip as an adventure with fascinating experiences waiting for you at the end. Such a conversation may help the little traveller to find himself in a new, travelling reality and will encourage him to wait for the "reward" that will be the purpose of the trip. You can even prepare a special map for an older child with a drawn route and characteristic points. This is an additional attraction and at the same time an easier experience for you. To the sacramental question "Are we there yet?" you will have a ready answer: "Look at the map and see for yourself".
3. Schedule stops
If you have a really long journey ahead of you, plan your stops well. Don't let them be stops at random stations somewhere near the motorway – in such conditions, it is difficult to get even a minimum of rest. Do not treat your trip as an unpleasant duty that you have to do to get there, but as an integral part of your holiday. Maybe on the way you can visit a medieval castle, visit a dinosaur park, a great playground, or organize a picnic by the river? Choose a place that will let you eat a meal in peace, as well as stretch your legs and stay outdoors for a while. When the child runs out during a stopover, they will be calmer during further driving.
If you have not hundreds but thousands of kilometres to travel, it is worth dividing the route into two sections – for example, if you are going to Croatia, think about accommodation in Austria or Hungary.
4. Dress in comfortable clothes
The child's clothes for the journey should of course be comfortable – loose and not restricting movement – and adapted to the aura outside the window. Even in the middle of the hot summer, however, it is worth having a warmer set in your hand luggage – sudden cooling can bring even a storm. Summer clothing should be breathable, preferably made of natural materials: cotton or linen. In winter, remember that the children do not travel in the car seat in thick, fluffy clothes – they make it difficult to properly fasten the harnesses and belts, and this drastically reduces the child's safety.
When travelling in summer, check the diaper more often than usual – there is nothing worse than painful burns when you have to spend the next few hours in the car!
Remember to be safe!
When travelling by car with a child, safety should be a priority. We will not talk about checking the technical condition of the car before departure or about responsible driving, because every parent remembers that. We will take care of what we know best: the use of the car seat.
5. Properly fastened seat
A safe car seat is a properly fitted car seat. Even the best and most expensive model will not fulfil its versatile functions when improperly installed. Every time you put a baby in a car seat, check that the seat belts are properly lined and tightened-even if you have 3 kilometres to drive to the next restaurant because the one you planned to stay at is closed.
To maximise the level of protection that the child seat can provide in the event of an unforeseen road accident, place it in the safest position in the car: in the middle of the sofa or behind the passenger seat.
6. Luggage in the trunk
During a sudden collision or accident, any object that is loose in the car can be potentially dangerous. So keep your luggage in the trunk and any belongings that need to be at hand, in a smaller bag or storage compartment. You can store toys that the child plays with while driving in a special organizer hung on the back of the seat.
7. Mom sits in front
It often happens that mothers travel in a car in the back next to a child. They argue such a decision that they can then constantly control what the little one is doing and, if necessary, entertain them. It's not very good practice. Why? First of all, we must remember that at the moment of a sudden collision, the human body becomes inert. The mom sitting in the back can hit the baby with her own hand.
Secondly, when deciding to ride in the rear seat, mom takes away the opportunity to use the safety systems offered by the front seat – above all the life-saving airbag. In the event of an accident, the child sitting in the rear is protected by a child seat, especially if it is travelling in a high-quality RWF seat. The mom sitting next to it would only be protected by seat belts. And yet it is not difficult to imagine a situation in which we lean towards the child, and the belt slips off our shoulder… Then it is not good security.
That's why we recommend: Dear Moms, choose the front seat! Situations in which you would have to sit in the back are really rare: such as posseting, reflux or strong motion sickness. If this does not apply to your child, take care of your safety and travel in the front.
8. Make your trip fun
Entertaining a child on a long journey is a challenge. But if you don't want the ride to turn into one big fit, you have to take it. Especially demanding in terms of entertainment are several-year-olds – they are no longer satisfied with a rattle or a rustling sensory cloth.
Of course, the type of play depends on what your child enjoys and plays daily. A book will (almost) always be a good choice. Once all of them have been reviewed and discussed, you can have fun searching outside the window for what is in the illustrations. Children are also happy to play with magnetic games or puzzles and books with stickers. Creative games also work great: telling stories, singing, association games, and counting objects outside the window (for example, only blue cars or yellow houses). You can also use the above-mentioned map with a route and distinctie points. Have fun exchanging what you would like to see or do on the road – this will make your time in the car run out faster.
9. Keep your secret weapon at hand!
A "secret weapon" is a set for a real crisis – when the ideas for playing have run out or the little one is so bored and impatient that tears are a response to everything. It can be a completely new toy that will keep them busy for a while, a favourite snack or just a tablet with fairy tales or a phone with a game. Sometimes, in the name of mental balance, we have to break our parental principles and just take the easy way out ;).
10. Use gadgets
In stores, you will find a lot of accessories that will make your long journey a bit easier. It is worth investing, for example, in accessories that increase the comfort of the toddler's driving – an anti-sweat pad for the car seat and a sunshade for the window. If your child is travelling backwards, a special mirror will also be useful. With it, you can control what the little one does at any time, without having to turn back. We recommend storing toys, snacks or a bottle with their favourite drink in a special organizer, which hangs on the back of the rear seat. Some models even have room to fit the tablet, so the child will not have to hold it in their hands.
Parents often avoid travelling with small children, fearing that they will not be able to cope with frisky little ones on the road. Too bad they don't know how much they're missing out on! Going away for the weekend, for example, helps nurture family relationships, shows children the beauty and diversity of the world, and teaches them the right behaviours that will be useful to them in the future, for example, when using public transport. It is worth making some effort during the preparations to make the journey easier for yourself and the child.
And you, dear Mom or dear Dad, what will you add to our list? What other advice can be given to other parents to encourage them to travel with their children?