Do you not know what to do with your child in the car during a long journey? Or maybe you avoid it because a long ride with a young passenger seems daunting to you? All you need to do is to learn about proven games and activities that will keep your toddler busy. Thanks to them, travelling with your child will cease to be a challenge for you. Remember – a bored child can effectively distract you and put all passengers at risk.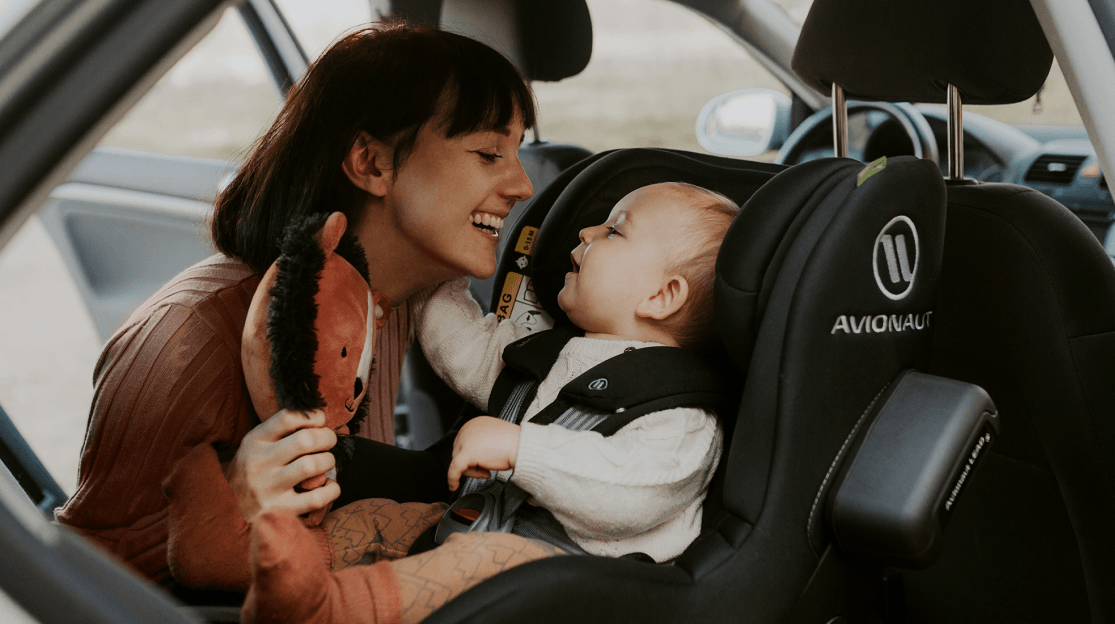 Contents:
A child who never gets bored = a safer journey for everyone

How to keep your child busy in the car? Recommended games and activities for little ones

How to keep your child busy in the car? Ideas for slightly older kids

Experiment and play with your child, but not forgetting about safety
A child who never gets bored = a safer journey for everyone
Before answering the question of what to do with your child in the car, it is worth considering why you should do it at all. It is not only about the parent's natural concern that the toddler does not get bored and feels good while travelling. The case is a bit more complex than it may seem. Think – what do you associate an angry, tired, and bored child with? Crying, screaming, and whining loudly are probably the first answers that come to your mind. A parent travelling with a nervous, screaming little baby is unable to fully concentrate on driving. They glance over their shoulder every now and then, their hands clenched nervously on the steering wheel, trying to control the situation. Such a distraction, combined with stress, may prevent you from noticing what is happening around you. Hence, this is a straightforward way to provoke a bump or a collision.
This is a hypothetical situation, but unfortunately it is absolutely possible. Children (especially the youngest ones) do not understand that they should not disturb their parents while driving a car. You cannot explain to them that their screams may distract you and, consequently, lead to a dangerous road accident. So, the most important thing is to understand their current needs. Adapt travel times to their "schedule" of the day. What should you understand by that?
Needs, needs, and needs again – It is the toddler who decides when to continue driving and when to take a break. Much depends on the capabilities and character of a particular child; some can go 6 hours without a stop, focusing all their attention on the view outside the car window – while others will need constant care and breaks every hour.
The most important thing is that the child should not get bored – you can read about what to do in the car in the next part of the text.
Remember about the comfort of your small passenger – if your child travels in a mismatched, uncomfortable seat, even the best and most interesting games will not help. So, make sure that your child rides in a suitable car baby seat, adapted primarily to his/her height. At Avionaut, we know that the comfort and safety of the youngest is the most important – in our store you will find a wide selection of baby seats suitable for both babies and older children.
How to keep your child busy in the car? Recommended games and activities for little ones
In our overview, we have included most of the games and activities that can be carried out without the use of toys or other items – because each additional item carried in the car during sudden braking or other road incident can shoot out with enormous force, injuring the passengers. When thinking about how to keep your child busy while travelling, first of all, remember about safety.
1. A box of surprises
Although the word "chest" appears in the name, do not take it as essential. You can use a chest, a casket, or even a simple bag – anything in which you can pack a few items / toys. However, it is important that they are completely new to the toddler. The main aim of the game is, of course, to arouse the child's curiosity. The little explorer will surely want to check what surprises are hidden inside the magic box! We recommend using soft low-weight toys which will not cause any harm to passengers if they start to move around the car during a road traffic accident.
2. Little driver
Why shouldn't a toddler take the wheel? Of course, it's a toy steering wheel, which makes them feel like a real king of the road. You can easily find toy steering wheels in most toy stores (choose one as soft and as light as possible).
3. Viewing pictures
If you have no idea what to do with your child in the car, show them pictures – although it is not particularly innovative, it always works well with the youngest ones. Remember to always have a new book close at hand during the trip, one which will interest your toddler.
4. Caring for the stuffed toy
While driving, you make sure that your child isn't bored – but who will look after their beloved stuffed toys? Any toddler will be happy to take care of their favorite teddy bear / doll. They will play with it, show it the landscapes outside the car window, or put it to sleep. A cuddly toy is a simple but very effective way to occupy the small passenger.
5. Goofing around
Showing silly faces, modulating your voice, pretending to be someone else … It all works great on the toddler's imagination and means that the child will certainly not be bored while driving. Experiment and see what works best for your child.
6. Zzz …
We go back to what we have already said – remember the needs of the child. This is especially important for the little ones. One of the best ways to prevent boredom is to get them to … sleep. Try to plan your trip in such a way as to adjust it to the hours of your child's normal "napping". For example, if your toddler goes to bed at 1:00 p.m., it would be a good idea to leave at 12:50. This way you are guaranteed 1.5-2 hours of smooth, stress-free driving at the beginning of your journey.
How to keep your child busy in the car? Ideas for slightly older kids
1. Searching for colors
"Now we have a super-important task – we are looking for cars which are green. Whoever finds the most, wins the game!" – this is how the fun of looking for colors can begin, which will mean a real competition for the child – they always want to win and show their parents who is the best!
2. Singing
During the trip, you can also encourage your child to sing his/her favorite songs together. Do not worry about forgetting, the most important thing is to enjoy the moment together. As a bonus, you can try to specially confuse the lyrics in the songs from your repertoire. A vigilant child will surely catch the slip and be proud to be able to correct you.
3. Word games and activities
How to keep your child busy in the car? The most popular word games will certainly be a great idea, including:
rhyming;
a word starting with the last letter – you start by saying any word, e.g. car; the child's task is to find a word which begins with the last letter of the word, e.g., road, and so car – road – drive;
guessing – you think about a selected object / animal / place, and the child has to guess what it is by asking only closed questions.
4. What's in the truck?
Another great method to keep your child busy in the car, which further helps to develop their imagination. The rule is simple – every truck or van you pass along the way hides a mysterious cargo. What is inside? Where is this transport going? The more interesting and weirder the answers, the better, of course.
5. Rituals
This is nothing more than predetermined behaviors which you focus on with your child in certain situations. Sounds boring? Nothing could be further from the truth – make an agreement that, for example, when descending a hill, the speed "knocks" you into the seat and you cannot move due to overload. You are only limited by your child's imagination.
6. Bingo
Good old bingo will never get boring. All you need to do before the journey is to prepare a card with written or drawn objects which your child must notice while driving. It can be a horse, a cow, it can be a logo of a well-known fast food or supermarket chain, it can also be a tractor, combine, or other vehicle. After completing the entire list, of course, the child deserves a reward!
7. Audiobooks
Listening to books on the go can be a great activity for kids. The offer of most platforms with e-books and audiobooks includes both classics of children's literature and newer items, and even (interestingly) audio-comics. A large selection makes it easy to adjust the content to the age and preferences of the child.
8. Tablets, smartphones, and other electronic gadgets
Parents who do not know how to keep their children busy in the car often choose to let them play in front of the screen. As easy as it may seem, it's hard to disagree that it is a very effective method to kill boredom. Children can watch a movie, the next episode of their favorite cartoon, or plunge into the world of virtual entertainment. Just remember that moderation counts here – while 1.5 hours in front of a glowing tablet screen is ok, a 5-hour journey spent in this way is not recommended at all.
Experiment and play with your child, but not forgetting about safety
Remember that playing with your toddler or child while traveling allows you not only to fight boredom and monotony, but also improve the safety of all the passengers. A well-fitted baby seat is responsible for the toddler's safety and comfort. Take a look at avionaut.com and choose a baby seat for your child according to their height and weight for the best driving experience!