Parents often admit that looking for the right car seat was one of the most difficult choices they made when buying baby accessories. While you can overlook the minor shortcomings of a cot or pram, when it comes to car seats everyone is looking for the perfect model in every respect. Do such ideals exist? How to choose the best car seat among dozens of options? Find out all about it by reading our article!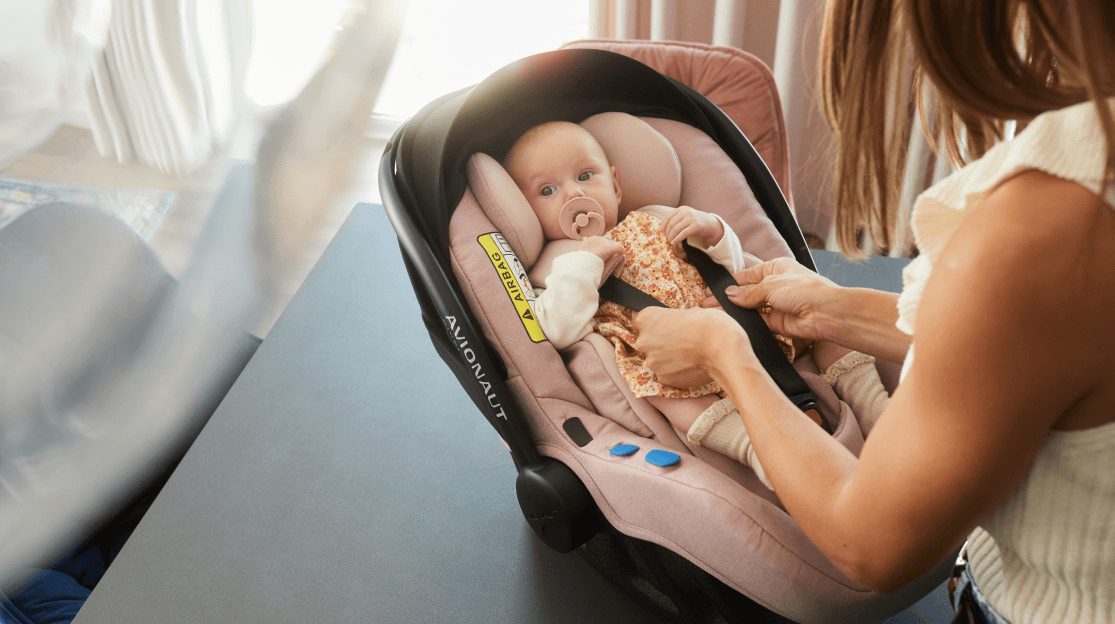 Contents:
The best child safety seat

Avionaut car seats – a choice that you will enjoy for years.

Pixel PRO – a modern car seat with the carrycot function

AeroFIX car seat – safe journeys up to the age of 4

MaxSpace Comfort System + – the most comfortable car seat for older children?

Extended warranty and free replacement after an accident
The best child safety seat
The search for a car seat often looks like a radio request show – parents want it to be super-safe, comfortable and light, to have a swivel base and a sleeping function, to fit easily and not get dirty too quickly and, of course, to 'grow' with their child.
Let's be clear: such ideals do not exist. Choosing a child seat always involves some kind of a compromise. Sometimes you have to give up, for example, stain-resistant upholstery in order for such a seat to fit in the back seat of your car.
To make your hunt easier, it is a good idea to narrow down your list of desired features to a few that are the most important to you. The best car seat is one that is safe, comfortable for your child, fits in the car and… can be installed properly.
1. Safe child seat
Keeping your child safe during an unforeseen road event is the most important function of the car seat. And it does not matter how short the journeys are or how much experience the driver has. Above all, the seat must be safe.
What does it mean? When looking for the right model, pay attention to the independent safety tests it has undergone. The most rigorous test of this type is the Swedish Plus Test (there is not even a bit of exaggeration in the statement that only the best car seats get a positive result in it!).
In addition, many car seat manufacturers have their products tested by independent test centres such as Applus IDIADA, Tass International or ÖAMTC. It is also a strong indicator of safety.
2. Convenient – for the child and for the parents
Another feature, convenience, is strongly linked to the issue of safety. Children can communicate very loudly and very clearly that they do not like something – at first by crying, then by shouting, and as the years go by, you may expect endless demands such as "I want to get off immediately." Travelling in an uncomfortable car seat can be really difficult, both for the child and for the parents.
But how do you find a convenient car seat when comfort is such a subjective and individual feeling? What matters most is the design of the selected model. A seat for a newborn, for example, must provide the right position, a seat for an older child must ensure head support and adequate legroom.
Therefore, an important stage of the search should be "fitting" the baby to the chosen model. Of course, this will not be possible with the first car seat you buy for your unborn child – here you have to rely on the help of an experienced salesperson. When looking for a seat in the next weight and height categories, it is worth taking your little passenger to shop with you.
3. Does the seat fit your car?
A well-chosen child seat should also fit in the car. Contrary to appearances, such compatibility is not obvious – there are car seats with such a comprehensive structure that they simply do not fit into the rear seat of a typical city car. Other more common reasons for mismatch are:
seat belts on the back seat that are not long enough
too large or too small inclination angle of the rear seats – as a consequence, some seats, especially for infants, may be installed in the wrong position,
seats too high – the support stabilising the child seat with ISOFIX cannot reach the floor.
In order to make sure that the car seat will fit well in the car, it is a good idea to 'try on' selected models before buying and with the help of a trained advisor, to check whether they are in a stable and manufacturer-provided position when fitted on the rear seat.
4. Car seat easy to install
When looking for the best seat for your child, sooner or later you will have to make a choice: belt or ISOFIX installation? Although some manufacturers advertise models with ISOFIX as safer, this is not entirely true. Both types of child car seat provide a comparable protection standard on one condition – when they are installed correctly.
Seat belt installation is more difficult than that with the use of ISOFIX and it is more probable to make mistakes, especially in the daily rush. So if you frequently move the child seat between two cars or take it out of the car, choose ISOFIX.
Avionaut car seats – a choice that you will enjoy for years.
Selecting the best car seat from dozens of options is not easy, especially when ypu are preparing a layette for a baby about to be born. The variety of technologies and solutions used by manufacturers can be truly overwhelming. It is a little easier to choose the next seats because you already know what features are the best for your baby. Still, the search takes time and the decision requires careful consideration of many different factors.
Is there any way to make this task easier and save time spent reading reviews, comparisons and specifications and then comparing different models? Yes, there is!
Check the Avionaut car seat range – we have prepared it so that our seats can accompany children at every stage of growth. We have designed this super-light Pixel PRO carrycot with newborns and infants in mind. When your child grows out of it, we recommend switching to AeroFIX which is suitable for children between the height of 67 and 105 cm and weighing up to 17.5 kg. Both seats can be installed on the same ISOFIX IQ base.
AeroFIX will serve the little traveller until approximately 4 years of age. For older children we have prepared the MaxSpace Comfort System + model. There is no coincidence here – 'space' is really 'max' as this seat has one of the largest seat-to-backrest distances on the market which provides great comfort and plenty of legroom for the youngest passengers. MaxSpace Comfort System + can accompany your child until the age of 7, until they reach 150 cm in height exempting them from travelling in a car seat. Most importantly, MaxSpace Comfort System + is characterized by an ergonomic design, which it owes to specialists in the field of children's physiotherapy and engineers. It is not without reason that the car seats have been certified by AGR – the German association for healthy backs.
The sequence of Avionaut child seats is as follows:
Pixel PRO – for newborns and infants (40–86 cm, 0–13 kg),
AeroFIX/AeroFIX RWF – for children aged 1–4 (67–105 cm, 0–17.5 kg),
MaxSpace Comfort System + – for children aged 4-12 years (100-150 cm, from 15 kg).
An alternative that can replace the Pixel PRO + AeroFIX/AeroFIX RWF car seat set is the Cosmo (40-87 cm, 0-13 kg) and Sky (40-125 cm, 0-25 kg) model.
Pixel PRO – a modern car seat with the carrycot function
The Pixel PRO is a car seat recommended for children from birth to approx. 1 year of age – reaching 86 cm in height or 13 kg in weight. It is incredibly light as it weighs just2.5 kg – that makes it the lightest child safety seat on the market! This is an advantage that young mothers will particularly appreciate. Picking up the Pixel or putting it in the car does not involve any effort and does not strain the spine.
Multifunctional
The Pixel PRO seat, as the model designed for newborns and infants, can be used as a baby carrier. It has a comfortable, contoured handle for easy carrying and an independent cover that effectively shields the little passenger from the glaring sun. The canopy is made of air-permeable fabric with a UV filter so even on a hot day it will keep your baby comfortable. With the help of special adapters, the Pixel PRO can be mounted on the frames of multifunctional pushchairs made by the most popular manufacturers.
Safe
And what about the most important thing here – safety? In this aspect, Pixel PRO also stands out from the competition. The car seat obtained high ratings in the ADAC test which is well known to all parents and its parameters exceed the requirements of the European ECE R-129 standard. It could not have been otherwise as the design of the Pixel was developed with the participation of professionals from the… aviation industry! Its shell is made of innovative, environmentally friendly, high-strength EPP material. This material is highly resilient – in the event of a collision, the seat absorbs the force of the impact, protecting the child from harmful overloads.
Convenient
The Avionaut Pixel PRO car seat is also equipped with a modular insert developed in cooperation with physiotherapists and experts in the field of proper child development. It allows the child to naturally adopt an appropriate position in the seat. Correct positioning improves breathing mechanics and minimises the risk of reflux – this can make your little passenger calmer and more relaxed during the journey.
As the child grows, some modules (stabilisers) can be removed to fit the growth and needs of the child.
AeroFIX car seat – safe journeys up to the age of 4
When your little one grows out of the Pixel, the AeroFIX will be waiting for them: a seat for children with 67–105 cm in height and 17.5 kg in weight. It is a model that can be fitted either forward- or rear-facing. The second method of transporting children who no longer fit in a baby carrier is unfortunately still met with astonishment in Poland ("Such a big child and still travels in rearward-facing position?!") However, as the Avionaut brand, we do not cease our educational activities and we intensively promote the rearward-facing method. The numbers confirm this fact: carrying children in the rearward-facing position reduces the risk of serious injury in the event of an accident or collision by up to 5 times.
Scandinavian safety standard
The Swedes are the unrivalled role model for the rest of the world in safe travel with children. Swedish parents carry their children in RWF (rearward-facing) seats for as long as possible – at least until they are 3 years old. There is no coincidence in the fact that the Plus Test, which the most rigorous child seat safety test, was developed in Sweden. Its requirements are met only by the safest models on the market. A positive rating in the Plus Test was achieved, for example, by the Avionaut AeroFIX RWF – a relative of the AeroFIX model which is only suitable for rearward-facing installation in a car.
The high level of safety provided to children by the AeroFIX results not only from the seat rearward-facing orientation, but also from its design. With special zones made of Memory Foam, AeroFIX absorbs the impact force during a sudden road event and protects the baby from its negative effects. In addition, a special bumper bar increases safety in the event of a side impact, and a contoured headrest stabilises the head and neck of your little passenger. The AeroFIX safety standard is confirmed by European ECE R-129 homologation.
A seat that grows with your child
Due to the headrest and safety belt adjustment feature, the AeroFIX seat can be adapted to the needs of a growing baby on an ongoing basis. Parents also do not have to worry that their child will curl their legs while being in a rear-facing seat. The designers have thought of this as well: the unique design means that the seat leaves plenty of legroom for your child. The AeroFIX also allows you to adjust the angle of the backrest to provide your little one with a rest position and a more convenient sleep.
MaxSpace Comfort System + – the most comfortable car seat for older children?
What if the child grows out of AeroFIX? The third (and last!) car seat in your child's life will be the MaxSpace Comfort System +. It is a versatile model, intended for children measuring from 100 to 150 cm. Both 4 and 12-year-olds can travel in it. How is that possible?
All thanks to the carefully planned design. The MaxSpace Comfort System + has a highly adjustable headrest, a deep, well-shaped seat and one of the widest seat-to-headrest distances on the market. Sitting in it, the child naturally takes the position that relieves the spine of any load. What's more – the MaxSpace Comfort System + is a car seat with a sleeping function. The backrest can be tilted to a more restful position, allowing the child to sleep comfortably.
The safety of your little passenger is ensured by features such as side wings, a bumper and ergonomic design. The MaxSpace Comfort System + seat can be mounted with both a car belt and an ISOFIX system.
Extended warranty and free replacement after an accident
By purchasing Avionaut seats, you gain confidence that your child travels in a safe and comfortable way. In addition, there is also free replacement after an accident and an extended warranty (up to 10 years). All this so that you can set off on each journey with peace of mind.
Elements such as a rotating base or removable upholstery can be useful every day. But something else is most important: safety. A car seat is the guarantee that will provide the best possible protection for your little passenger in an emergency. In order for it to perform its function well, it must be comfortable (otherwise the toddler will not sit in it willingly) and adjusted to the car. The other features are nothing more than extras – nice and making life easier, but still extras. It is worth remembering when looking for the perfect child safety seat.