Layette! It's time!
Every mom – especially a first-timer – has the right to feel overwhelmed by the amount of stuff a little person needs before they even come into the world. It is difficult to start, and even more difficult not to get hopelessly lost in the jungle of guides, friendly advice and the results founds with an Internet search engine. The most important thing, however, is to make the first step – but in which direction?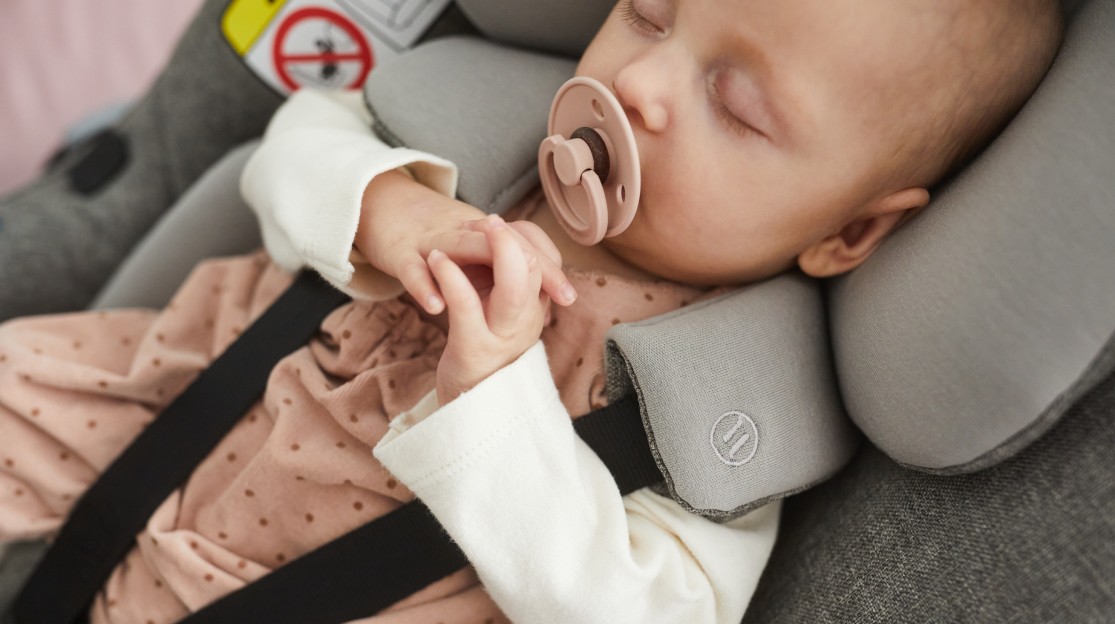 Contents:
Where to start?

What's next?

What should you base your choice on?

I recommend the Pixel PRO car seat. Why?
Where to start?
To begin with, it is worth preparing a layette checklist that will allow you to organize the items you need, also in terms of suitability, functionality and safety. The list will definitely include very pleasant choices, such as blankets, clothes or cuddly toys, but also items necessary, including but not limited to a cot and a mattress. And that's where the first issues begin. How to make our child's surroundings safe? As for the crib, it's actually very simple. The cot should only hold the child, preferably in a sleeping bag or a swaddle, lying flat on its back, on a properly hard mattress.
What's next?
Let's move on to the next point on the layette list, which is mandatory and has a high priority of safety – a car seat. We have many options to choose from, as numerous brands are competing when it comes to ideas and solutions that can prompt parents to buy a specific model. A very important element of this decision is the opinion of specialists. First of all, the child seat must ensure the safety of our child in a moving car, whether on a long drives or short rides, so it is best to visit a store that specializes in child seats, where we'll receive comprehensive service, allowing us to select an optimal model for our needs and specific car model. The first car seat will be chosen blindly, without the option of trying it on for size. Please note that hospitals require that you bring a child seat when collecting a child from the maternity ward. This provision is intended to reduce the risk of improper transport of newborns by car.
What should you base your choice on?
Currently, every car seat on the market must be compatible with the ECE R44/04 or ECE R129 European i-Size approval standard that  involve basic dynamic tests. In addition to the information that the seat was properly tested, it is necessary to pay attention to the score it has received, especially taking into account such tests as ADAC, Warentest, OAMTC and RACE.
The second point to consider is the supported weight range. Seats in the range of 0-36 kg are readily available on the market, although they are not the best choice, as the correct position of a newborn or infant is drastically different from that of an older child. It is worth choosing a car seat in the range of 0-13 kg. The second important parameter is height, as it determines whether an older child can still use this particular child seat. Why is this so important? Poor position in the seat can disturb the development of the child's spine and improperly distribute the child's weight. Incorrect position also affects the correct breathing path, as head must be properly supported.
I recommend the Pixel PRO car seat. Why?
This car seat has a recommendation of the German Association for Healthy Backs, which it was granted for two reasons. Firstly, the child seat has a liner that stabilizes the baby's pelvis, spine and head, ensuring the right position and comfort for the little passenger. Secondly, EPP material from which the shell is made contributes to a low weight of the seat (approx. 2.5 kg). This not only makes it stand out among the other seats available on the market, but also has a beneficial effect on the parent's spine. This is an additional advantage that should be taken into account, because any reduction of weights a mother must carry (especially in period immediately following childbirth), positively influences postpartum regeneration.
Another aspect that should be taken into account when choosing a car seat is the method of installation. We have two options here: belt mount or ISOFIX base. It is mandatory to match the car seat to the model of the car. The angle of inclination of the seats and their height may determine the safest method of installation. ISOFIX base increases the stability of the seat and allows for a quicker installation each time. In addition, the ISOFIX IQ base is designed to be used when using another child seat when a child grows out of a previous one. One base will be ideal for two seats.
The last step is to choose a color. In addition to standard colors, Pixel PRO offers 3 beautiful pastel shades, and the removable upholstery allows you to keep the car seat clean. Deliberately selected fabric ensures proper air circulation between the insert and the passenger, is skin-friendly and significantly improves riding comfort.
Each Pixel PRO car seat comes with a 2-year warranty that can additionally be extended up to 10 years, and post-accident car seat replacement, which prevents the resale and usage of second-hand car seats that were involved in an accident.