The first journey home from the hospital is a huge event not only for the little one, but also for the parents. For this reason, it is worth preparing well enough to avoid additional stress on the discharge day. Are you wondering how to transport a newborn from the hospital and how to dress the baby so that the first trip does not end with a cold? You'll learn everything from our latest article!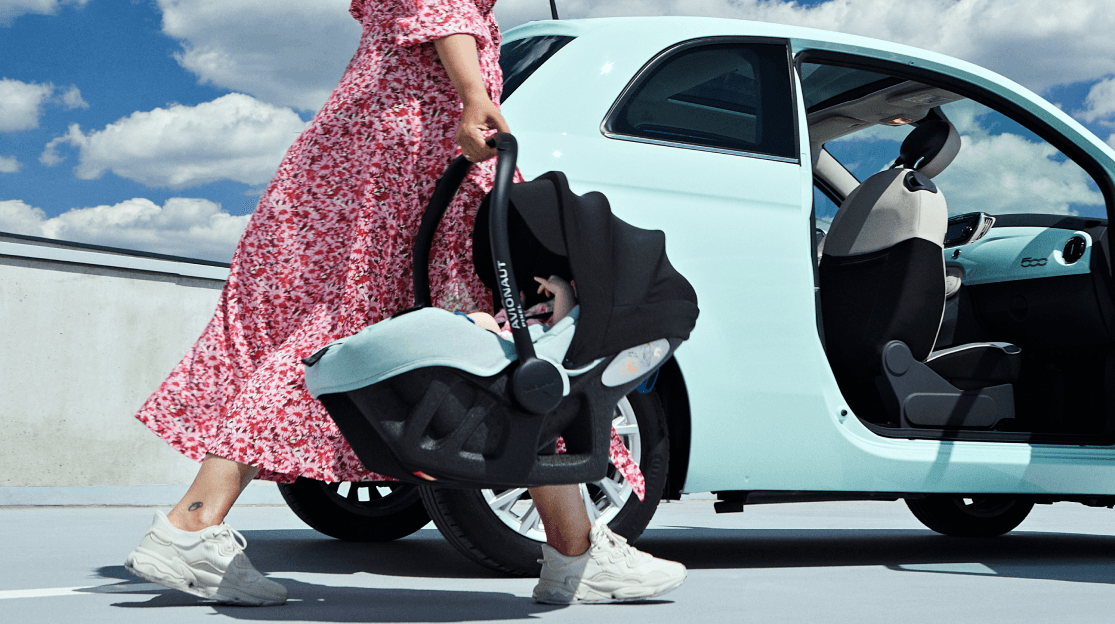 Contents:
How to bring a newborn home?

How to choose a seat for a newborn baby?

How to dress a newborn baby when leaving the hospital in summer and winter?

What else should you keep in mind?
How to bring a newborn home?
If the question of how to transport a newborn from hospital to home has been on your mind, the answer is simple! By car, of course! Even if you do not have your own car, you can ask friends or family for a favour or order a taxi. Whichever option you choose, you will need a seat for them. Carrying a toddler in your arms is not only dangerous, but also illegal! Most people opt for models in the 0-13 kg range which can be used as carriers as well. Remember that there is limited space in the hospital room, so the seat may not fit there. It is best if you ask the person who will be picking you up to come with the car seat and carry your little one into the car together.
How to choose a seat for a newborn baby?
Choosing a car seat is a topic for a separate article or even a book. So today we will focus on just a few highlights. First of all, the seat should be bought in great advance. Eventually, it is the most important accessory you toddler needs, and you never quite know when you will go into labour! Give yourself some time, do some basic research and visit a good baby seat shop. The staff will help you choose a model that meets your requirements and fits your car rear seat. We strongly advise you against making a second-hand purchase online. You will never be sure if it has been stored properly or worse, if it may have been involved in a car crash or another accident. An accident-free, undamaged seat can, as a last resort, be bought from trusted friends or close family members.
Newborn baby seats should always be installed in rear-facing position. By law, they must comply with at least the ECE R44/04 standard. However, a model that complies with the newer and more rigorous R129 standard is definitely preferable. You will recognise it by the i-Size mark. However, EU requirements are not everything. The most objective criteria are the results of independent crash tests such as ADAC or Test Plus. That is why we recommend you reviewing their results before purchasing. What else needs to be looked at? A good newborn seat should be equipped with a reduction pad to prevent the toddler from sinking into the seat. Some manufacturers design them in collaboration with a physiotherapist to ensure that car rides do not negatively affect the development of a toddler.
How to dress a newborn baby when leaving the hospital in summer and winter?
There is another issue that many parents are concerned about – dressing a newborn baby when leaving the hospital. In winter a toddler can get cold, and in summer he/she can easily overheat. Clothes should naturally be matched to the season, but what does that actually mean?
In the cold months, it is best to layer up your little one. Depending on the weather, you can then put on or take off more layers from them. If the weather is very cold, put on a long-sleeved bodysuit, a romper, socks, a winter suit, gloves, scarf and a hat. Just in case, a thick blanket will also come in handy. Remember though that the toddler should not be wearing a fluffy jacket or overalls during the car journey. Thick clothing leads to the force generated during sudden braking or a crash being distributed differently than assumed by the seat manufacturer. This can have a negative impact on the safety of the toddler. So what to do to keep your child warm in the car? It is best to buy a special wrapper, i.e. a sleeping bag adapted to the seat.
And how to dress a newborn baby when leaving the hospital in summer? On hot days, the matter is much simpler – all you need is a short-sleeved bodysuit, a thin hat and socks. As a precaution, it is a good idea to have a thin blanket or nappy at hand to cover the baby if necessary. Months with unpredictable weather such as March, April, September and October can be problematic. As a basic set, we recommend a short-sleeved bodysuit, romper, tracksuit, hat and socks. The weather can vary during these months, so keep a close eye on it.
What else should you keep in mind?
Finally, some practical advice to make this long-awaited day a little less stressful. If you are giving birth in winter, do not pack outerwear for your baby in a bag, but put it in the car seat. They will only be needed just before you leave, so they can be brought by the person picking you up. This will save you some space in the bag. On the discharge day, be careful not to overheat your baby. Zip up their overalls or jacket only before leaving the hospital as it may turn out that extra paperwork has to be done at the last minute. Be careful when driving too. Try to keep your child calm – do not open windows, do not use the air conditioning too much and do not turn on loud music.
Remember that if you have any doubts, you can always ask your midwife for advice. For them, this is not the first discharge!
Looking for information on how to travel safely with your child? Visit the Avionaut Knowledge Base!